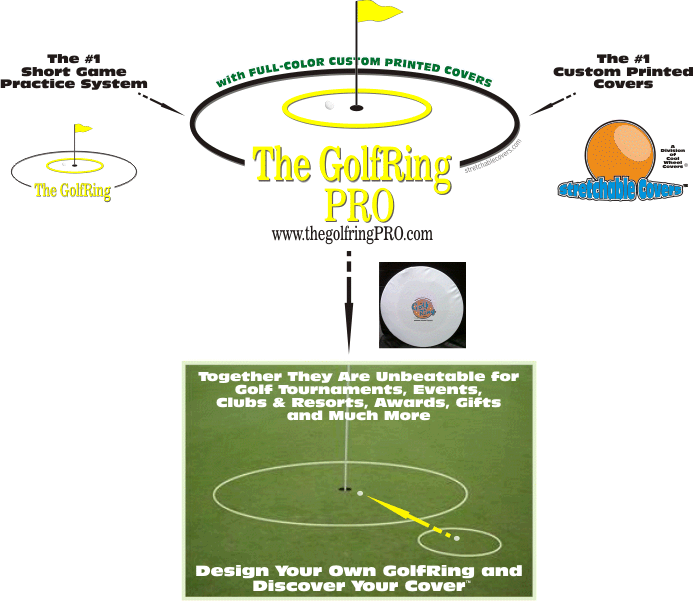 FOR IMMEDIATE RELEASE
CONTACT: M. Paul Speert 410.561.0800
Stretchable Covers Signs Exclusive Contract with The GolfRing for Custom Imprinted Covers - The GolfRing Pro
April 22, 2013, Reisterstown, MD – Stretchable Covers (A division of Cool Wheel Covers and Speert Advertising Specialties, Inc.) announced today that they have signed a contract with The GolfRing to be the exclusive maker of GolfRing Covers for custom imprinting.
M. Paul Speert, CEO of Stretchable Covers, says "The combination of our custom imprinted Stretchable Covers and The GolfRing's #1 short game practice system creates new marketing opportunities of far reaching impact. The GolfRing has always been hailed as an unbeatable and fun learning tool by the best professionals in the golfing industry, but until now, there was no way to utilize The GolfRing for other purposes. With the addition of our Stretchable Covers (which will go by the name, The GolfRing PRO) to the overall packaging, you can now have your name, event, message, invitation, logo or just about anything you would like imprinted on your very own GolfRing Cover. In other words, you can order each GolfRing PRO set with your information printed right on the cover! It makes for a great invitation, award, tournament gift, corporate event item, and, of course, the finest short game practice tool on the planet today."
The joint product line is already in production and is available immediately on the updated and very easy to use interactive site through which each order can be custom designed. Orders will be processed immediately and produced in the order in which they are received. Mr. Speert has added additional resources and machinery to the production floor as demand for the innovative combined merchandise has been overwhelming.
For more information contact: M. Paul Speert 410.561.0800
-END-